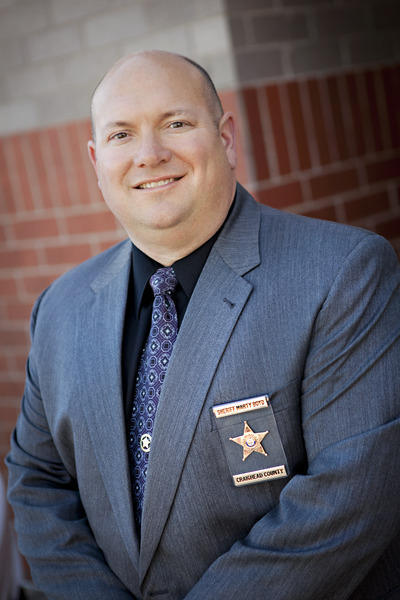 March 15-21 is National Flood Safety Awareness Week. We at the Craighead County Sheriff's Office are always prepared in the event of an emergency, but we want you to know how to prepare you and your family, and what to do after the disaster. Weather in Arkansas is unpredictable, and having a plan in place will save precious time when protecting life and property.
According to The American Red Cross. floods are the most frequent and most costly of the natural disasters. Flooding occurs when heavy rain, or steady rain over the course of days, saturates the ground. Flash floods are the most deadly as they are rapidly rising waters in streams or low-lying areas. A drop of water is harmless, but the power in numbers is apparent when the torrents of water can uproot trees, carry houses off their foundations, and wipe out entire sections of road. It's important to know that homeowner's insurance does not cover flood damage. WWW.FloodSmart.gov is the National Flood Insurance Program web site, and they have loads of information about insurance coverage and more tips about preparation and protection from flooding.
As with other storm watches and warnings, it helps to know the terminology.
Flood/Flash Flood Watch- Flooding or flash flooding is possible in your area.
Flood/Flash Flood Warning- Flooding or flash flooding is already occurring or will occur soon in your area.
Have a Go-Bag ready in case you have to evacuate

3 days supply of food & water (1 gallon of water/person/day)
Weather radios are a must, and come with manual or solar options
First Aid kit, including sunscreen, insect repellant, and bite medication
7 Day supply of medications and contact supplies, backup eyeglasses, etc
Multipurpose tool (commonly called a Leatherman)
Personal hygiene items
Laminated copies of all personal documents. Also, it's a good idea to keep copies of these offsite, such as a lockbox or cloud storage. Many companies are offering cloud storage for free with membership.
Family and emergency contact information should be written down in case your phones cannot be recharged.
Extra cash
Emergency blankets
Include sturdy shoes in your clothing supplies, as well as rain gear
Don't forget your house and car keys
Make sure your pet has all their tags, collars, leashes, and food to get them through, as well. You may have to seek shelter in a public area and you will have to prove that your pooch has been vaccinated.

Turn Around, Don't Drown!

it takes six inches of swiftly moving water to sweep a person off their feet
It takes less than two feet of water to sweep away a car.
If you can't see the road, you can't see potential hazards.
Flood water can be contaminated with hazardous toxins
The Great Flood of 1915

August 1915 found Arkansas in the grips of a devastating statewide flooding problem, with greatest areas of heavy rains in the White River area. Heavy precipitation fell in a swath from Mena to Hardy, with Hardy receiving a still record amount of rainfall of 19.55" in the month of August, and three of the stations in this path recording 10" of rain in just 3 days. Crops, livestock, and buildings were lost in this catastrophic flood. The estimated damages were $2.6M ($61,904,761.90 in 2016 currency.)

The Great Flood of 1927

The April 1927 flood was a concert of calamity. Early melting of the Mississippi River Valley from the northern states caused the river to swell, and back up into the Arkansas tributaries. All counties reported double digit rainfall, some even 20" of precipitation. The two forces collided and reports of the White River running backwards from the force of the Mississippi were told by many. This flood affected 36 of the 75 counties in Arkansas, with over 100 fatalities, and cost the country as a whole over $1B ($13,698,630,136.99 in 2016 currency.) This event spurred the Federal Government into action to flood control.

The Ohio-Mississippi Valley Flood of 1937

No photo available

April 1945 Flood

Simply put, there was too much rain for the many rivers and tributaries to handle. With an average rainfall of 11.12" for the state, all 75 counties reported excess of 18" of precipitation for the month of April and eight counties receiving more than 36" of rain during the month.

Pocahontas, AR

Levee failures and record high river stages are the major players in the devastation that shook the town of Pocahontas, AR. The Black River crested at 28.47', coupled with a swollen Mississippi River system and the town was one of many who fell victim to the flood waters.

Lake City, AR

These photos from May 11, 2011 of the St. Francis River at Lake City show the river touching the base of the bridge.

Jonesboro, AR

Lawson Road travelers found a nasty surprise on March 30th when a large section of the road was washed out from the heavy rains. The road was reopened April 12th when road crews replaced the culvert and paved the road. This shows the massive power that water possesses.
Sources:
http://www.floodsafety.noaa.gov/states/ar-flood.shtml
http://www.kait8.com/story/14523747/prisoners-to-be-evacuated-due-to-pocahontas-flood
http://www.kait8.com/story/31624115/update-lawson-road-back-open-after-repairs