Employee Appreciation/Awards Banquet
02/22/2016
Each year, Sheriff Marty Boyd hosts an employee appreciation banquet for both Sheriff's Department and Detention Center employees. A fantastic catfish dinner with all the trimmings was provided by John 3:16 Ministries. There were door prizes galore, and three grand prizes! Our guest speaker was Arkansas State University Head Coach Blake Anderson with a very inspirational message about teamwork, putting the team first and you will reap the benefits you deserve.
While the main purpose of this dinner is to show his appreciation for the exceptional effort all employees exert daily, Sheriff Boyd recognizes two employees, one from each side of the organization, for their standout effort. Nominations come from coworkers, which makes the honor more distinguished. This year, the Deputy of the Year was Chief Deputy J. R. Rick Thomas; he has been with the Sheriff's Department since 1999. The Detention Center Officer of the Year was Corporal Aaron Chadwick; he's been with the Detention Center since 2012. Both recipients received a plaque, and a watch from Sissy's Log Cabin engraved with their accolades.
It was a night of laughs, family, unity, and even a tear or two. Thank you to all those responsible for the success of the evening including the many sponsors, including Tiger Commissary. Thank you to the outstanding employees of the Craighead County Sheriff's Department and Detention Center who make this a fantastic place to work and strive each day to make Craighead County a safe place for the citizens.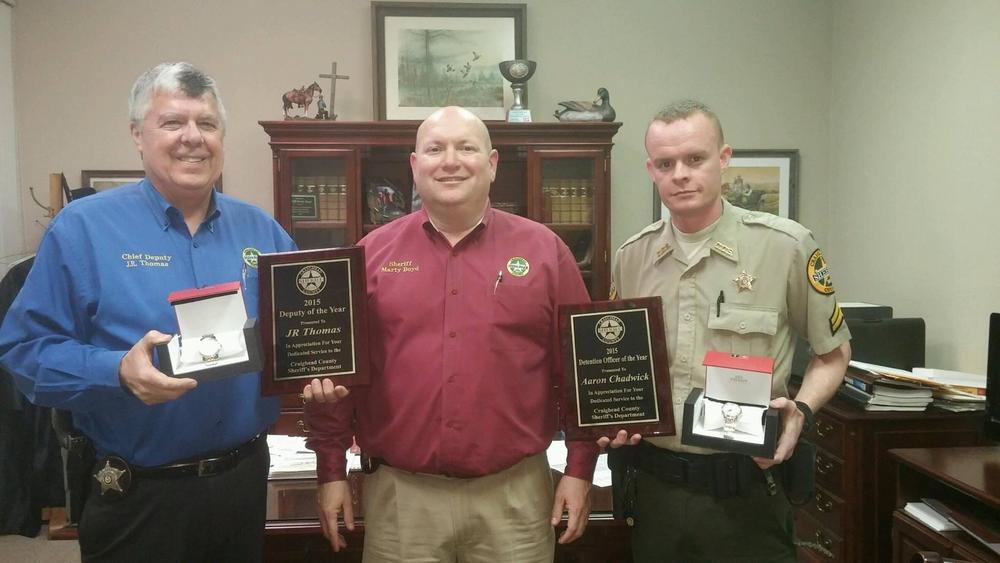 L-R: Deputy of the Year 2015- Chief Rick Thomas
Sheriff Marty Boyd
Officer of the Year 2015- Corporal Aaron Chadwick