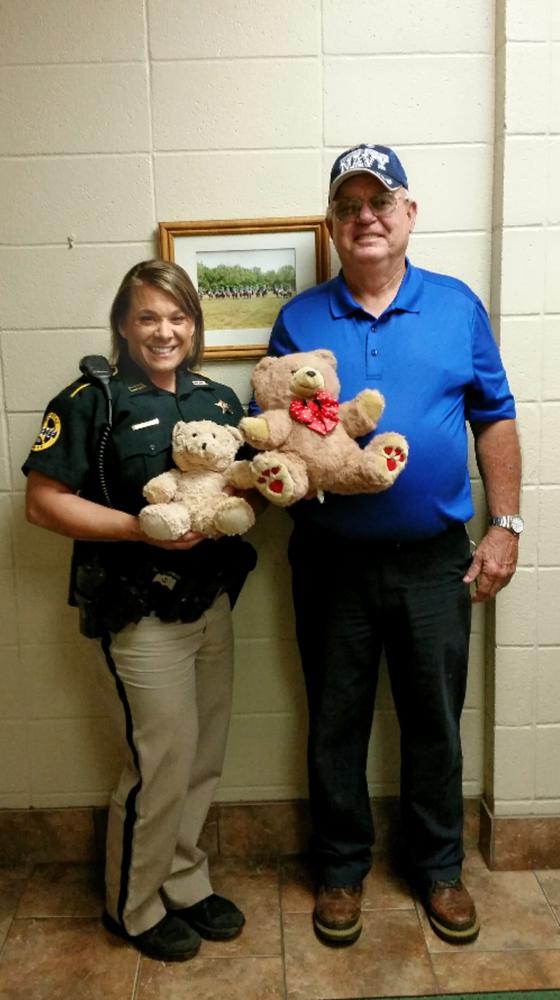 Deputy Jeania Burns and Larry Kimbrough of Council 1702
Knights of Columbus the world's largest Catholic fraternity, committed to charitable acts and donations on local, national, and international levels. Their focus varies from Special Olympics, Global Wheelchair Mission, Habitat for Humanity, Food for Family, and Coats for Kids. They have nearly 2 million members world wide participating in service to their communities. Our local chapter, Council 1702, is dedicated to providing stuffed animals to children who are facing traumatic events. These bears and such are kept in the deputies cars to have on hand in the event the deputies encounter a child in need. Whether it be a child who witnessed a domestic assault or was involved in an automobile collision, these events are terrifying to a young mind. A soft bit of huggable comfort is helpful. Deputy Jeania Burns is the Craighead County Sheriff's Office ambassador for these instruments of smiles, and ensures they are distributed throughout the Sheriff's Office.
Thank you to the Knights of Columbus for your generosity and thoughtfulness.