ASU Criminology Department to Begin Research Project
07/21/2017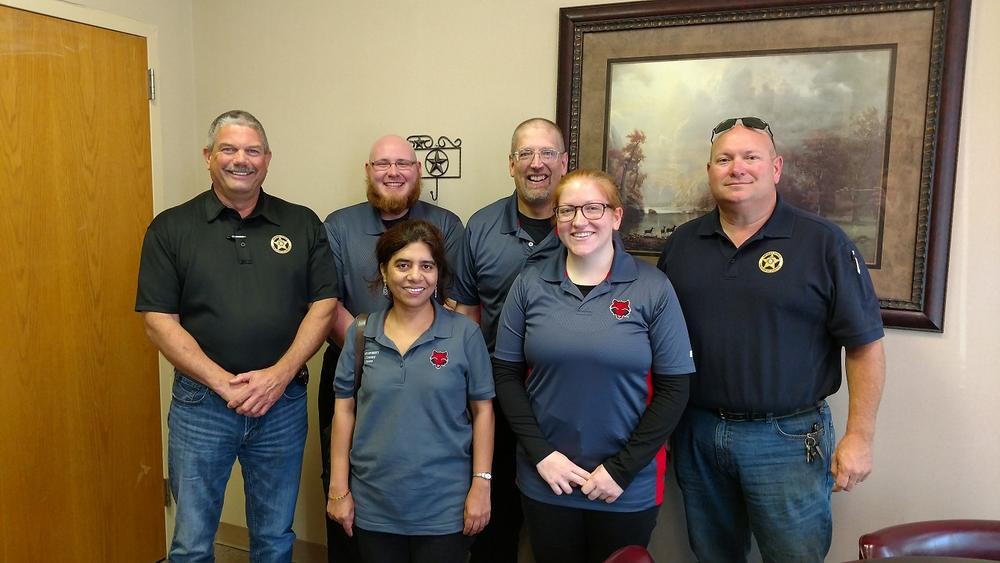 Pictured First row, L to R:
Cpt. Keith Bowers-Jail Administrator; Dr. Veena Kulkarni-Interim Chair of Department of Criminology, Sociology, & Geography; Victoria Rukus- Graduate Student, Sheriff Marty Boyd
Second row
Brandon Clay-Graduate Student; Dr. Joseph Rukus-Director of Graduate Programs for Criminology, Sociology, & Geography
Arkansas State University Department of Criminology visited with Sheriff Marty Boyd and Cpt. Keith Bowers to propose a joint study regarding the correlation between mental health and incarceration in hopes of creating a crisis stabilization unit for those with severe mental heath issues. Studies have been conducted throughout metropolitan areas, but not enough is known about the tough realities rural jails are facing housing the mentally ill.
The study will be in two phases:
The researchers will focus on inmates that have been housed longer than 72 hours and reported during intake they were experiencing mental health issues. They will document the number of incidents during the incarceration and how many times the inmate has been booked into our facility.
The second part will be pending funding from legislation. The researchers will conduct interviews with detainees, detention officers, and deputies to determine what is working and what is not working.
Gaining input from those who are most affected by the situation is valuable in creating a viable solution to a problem plaguing Craighead County, and Arkansas. There is not a good system to help those with specific needs. We hope this study helps alleviate the need to house those with these issues and get them the help they need. The crisis unit will not be the final solution, but it's a great start on getting our citizens of Craighead County the help they deserve.
If you would like more information about this study, please contact the ASU Department of Criminology. All of their contact information is on their website.