Life Saving Award Presented to Deputy Daniel Willey
08/16/2017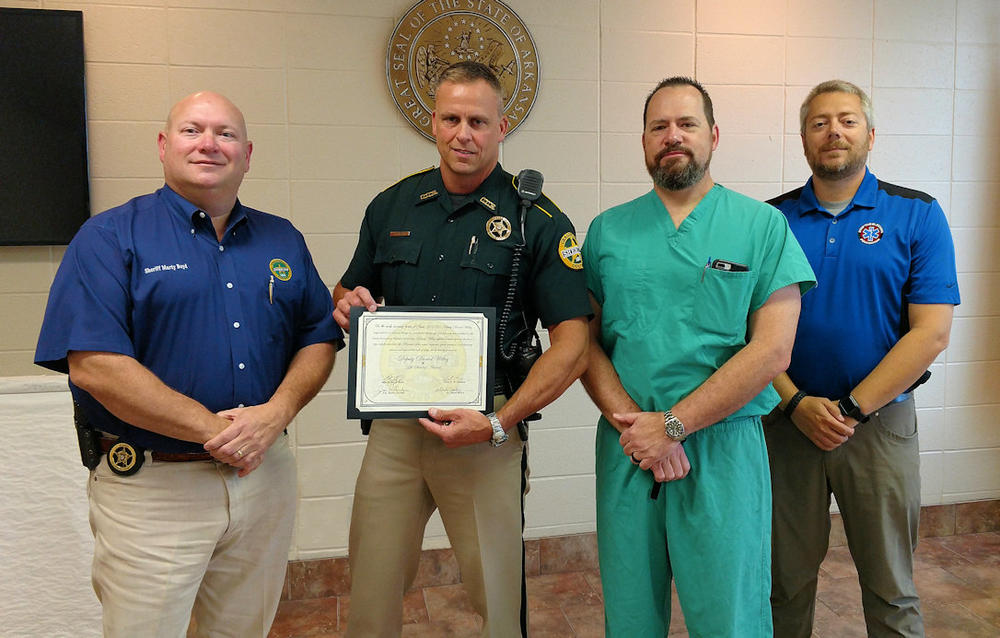 From L to R: Sheriff Marty Boyd, Deputy Daniel Willey, Dr. Spencer Guinn, & Jeremy McIntire
Dr. Guinn and Mr. McIntire are with Stop the Bleeding Foundation who provided the tourniquet used to save the man's life.
Today, Deputy Daniel Willey was honored with the Lifesaving Award for his actions on June 23, 2017. Deputy Willey responded to a call of an accidental discharge of a firearm which resulted in the individual receiving a bullet wound to his upper thigh, severing his femoral artery. Deputy Willey applied a tourniquet, and the man was rushed to the hospital. The staff stated that due to the damage to the artery, the man would have certainly died without the tourniquet.
The Craighead County Sheriff's Office is proud to have Deputy Daniel Willey as one of our team. He took the training received through his time in the military, law enforcement, and through Stop the Bleeding Foundation, and applied the knowledge in the field, thus saving a life.
If you would like to know more about Stop the Bleeding Foundation, visit their website at http://www.stopthebleedingfoundation.org/ or find them on Facebook at https://www.facebook.com/stopthebleedingfoundation/