Illegal Dumpsite Cleanup
08/28/2017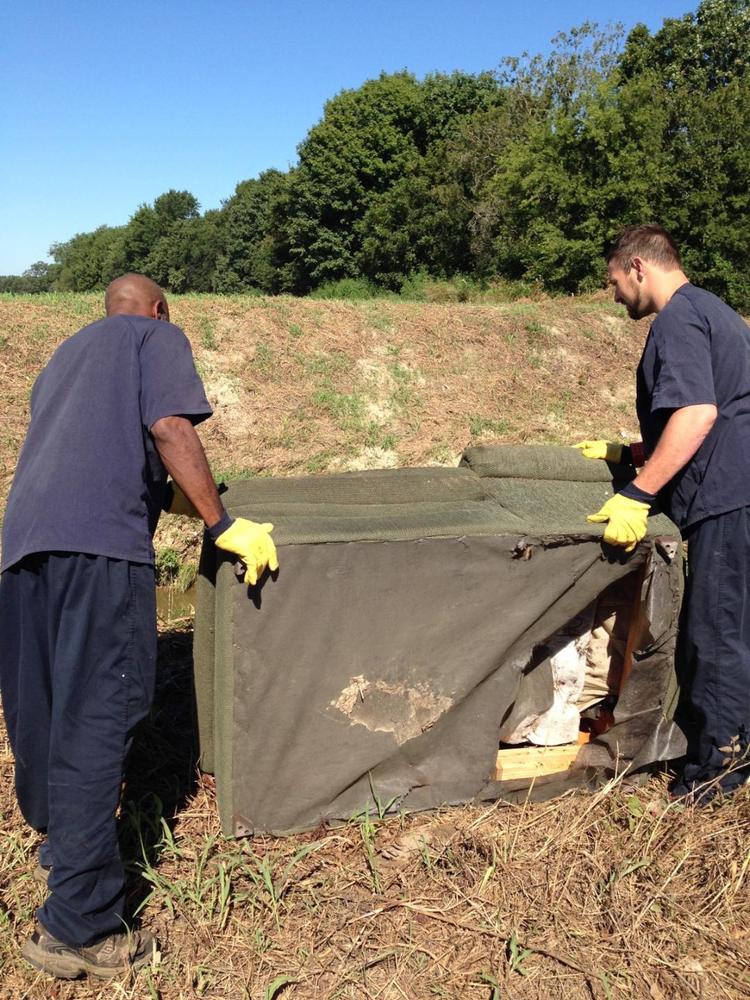 Two Craighead County Detention Center detainees are working to cleanup an illegal dumpsite on County Road 611.
Last Thursday, Craighead County Sheriff's Department and Detention Center took on the not-so-small task of cleaning up some of Craighead County's illegal dumpsites. Environmental Officer, Deputy Randy Sharp, teamed up with Reserve Officer Richard Hollis to coordinate the efforts of our inmates in removing the garbage from ditches and roadsides. There were several sites that were cleaned up throughout the county, and plans are in the works for more clean-up as man-power and weather permits.
The statute in violation is 8-6-205 Title 8 Environmental Law, Disposal of Solid Wastes and Other Refuse.
(a) it shall be illegal for any person:
...
(3) To dispose of solid wastes at any disposal site or facility other than a disposal site or facility for which a permit has been issued by the department. However, no provision of this subchapter shall be construed so as to prevent an individual from disposing of solid wastes resulting from his or her own household activities on his or her own land if the disposal does not create a public or private nuisance or a hazard to health and does not violate a city ordinance or other law and does not involve the open dumping of garbage.
...
The criminal and civil penalties range from 1-5 years in jail and fines up to $50,000 per occurrence. The department is able to sue for civil damages with the proceeds to be deposited in the operating fund of the department to cover expenses incurred for cleanup.
"Keep Arkansas Beautiful" isn't just a slogan. This is our state; Craighead County is our county. It is comprised of a patchwork of cities and towns, all with their unique charm. We have to preserve the beauty, the ecology, and the vast resources Craighead has to offer. If you know of any illegal dumpsites, or have information regarding people dumping illegally, contact rksharp@craigheadso.org and do your part to keep Craighead Beautiful!