Patrol
The responsibility of this unit is to maintain a safe and orderly environment for citizens and visitors in all areas of Craighead County.
Few would dispute the fact that deputies assigned to the Patrol Division are the backbone of the Sheriff's Office. These are the men and women who are the first to respond to your call for help. They are almost always the first to arrive on a scene and give aid and comfort to the injured. They often put themselves in harm's way every day they are on the job to stabilize a violent domestic call or when they search a dark building for a dangerous suspect. They pull victims out of burning buildings or give the first life-saving breaths of CPR to the child they have just pulled out of a backyard swimming pool. They serve and protect the citizens of Craighead County and they do it with little recognition or fanfare. They take it all in and see what they do as simply part of their jobs.
The Patrol Division is responsible for responding to all types of emergency and non-emergency calls for service. They advocate preventative patrol and strive to maintain high visibility as a way to deter crime.
---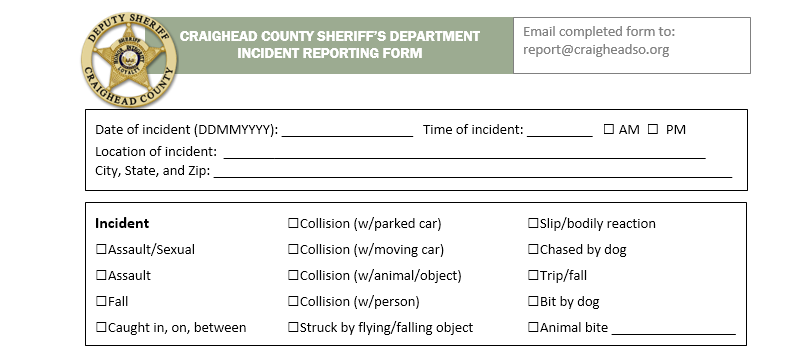 (Click the link below for the full report)
The Craighead County Sheriff's Office wants everyone to enjoy the roads in Craighead County, and that includes bicyclists. Keep in mind when encountering bicyclists on the county roads to keep a 3 foot bubble of safety between your car and a bike at all times. If your cycling group would like to have an extra patrol for a pre-planned route, email the information to the address below and, if man-power allows, a Deputy will perform an extra patrol for that area.
In case of an incident, what should you do?
If there are injuries, call

911

.
If there are not any injuries and a suspect can be identified, call 870-935-5552, and then proceed the next business day, with a copy of the incident report from the Deputy, to the Prosecutor's Office to file an affidavit. This is time sensitive, so please do not delay.
If there are not any injuries and a suspect cannot be identified, complete the form and email it to report@craigheadso.org.
Email questions to:
Cpt. J Allen at jallen@craigheadcounty.org
For more information about bicycle safety and rules of the road, click on these links!
https://www.facebook.com/NEABC/
https://www.arkansashighways.com/publications/Bike%20safety-doc12a.pdf